Sweet Potato Fritters
Sweet potato is one of my favorite ingredients to make snacks with.  It goes back to my childhood days when I remember eating something called "goreng keladek" (translated from Malay for "fried sweet potato").  My memory tells me it was a thin slice of sweet potato dunked into batter and deep fried.  I also remember something called "kuih kodok", a deep fried battered mashed banana conconction.  For a long time, I had wondered how a mashed sweet potato version would taste.  So in college, I experimented and came up with Sweet Potato Golden Nuggets.  Though the natural sweet potato flavor came through, the texture needed some improvement.  So I experimented with a malasada version of it.  The texture wasn't as crispy as I would have liked in the malasada version.  I made some substitutions to the flour, adding rice flour and switching out the yeast for baking powder. The texture was crispy on the outside, tender on the inside, and not too hard or soft when cooled; my best version of battered mash sweet potato thus far.  As I do with all my recipes, I will continue to make improvements as I go along, and maybe one day in 30 years, I will have a perfect version of a cross between goreng keledek and kuih kodok.  8)  I will keep you posted.  For now, I hope you enjoy these 2-bite sized sweet potato fritters.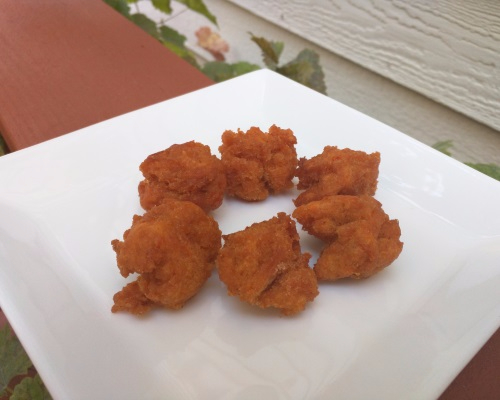 Ingredients
1 cup mashed cooked sweet potato
1 cup rice flour
1 cup AP flour
1 tsp baking powder
½ cup sugar
2 pinches salt
1 egg
1 tsp cinnamon
2 tbsp milk
Directions
Boil sweet potatoes until tender to the fork. Drain water and mash.
In a separate bowl, mix together all dry ingredients.
Mix together egg and milk.
Mix egg/milk mixture with mash sweet potato.
Make a well in center of dry ingredients.
Add mash potato mixture to the well of dry ingredients.
Mix all ingredients together.
Heat sufficient oil to deep fry.
Add teaspoon sized balls of dough to hot oil and allow to brown on all sides.
Drain well. Enjoy with a cup of tea.
Reviews
{{note.Summary}}
edit
{{note.author.name}} on {{note.date | date:'medium'}}
{{writtenLevel}}
{{note.Comment}}