Vietnamese Inspired Beef Stew
This is a hearty soup that can be cooked in a pressure cooker or stove top. Fresh spices (i.e. ginger, onion, garlic, hot chili pepper, lemon grass) can be replaced with dry powdered versions if more convenient. It very much reminds me of an American Style beef stew except with a stronger spice flavor, thanks to the cinnamon, star anise and lemon grass. Great meal to warm a cool night.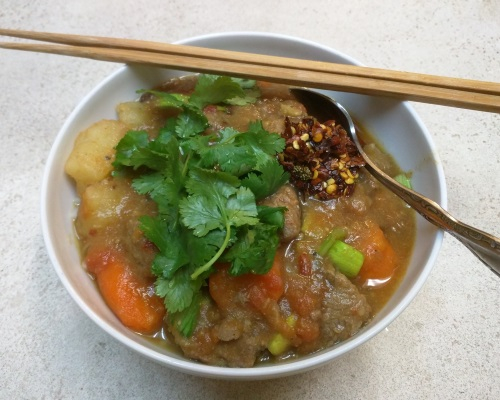 Ingredients
1 ½ lbs beef - cubed into 1" sizes
1/2 medium onion, chopped
4-6 cloves garlic, chopped
1 hot pepper, chopped, optional
1" ginger, chopped
1-2 bay leaves
1 - 3" cinnamon stick
2 tsp black pepper
4 star anise
1 stalk lemon grass, cut into 3-4 inch portion
2 potatoes, cubed into 1" sizes
3 tomatoes, cubed into 1" sizes
4 carrots, cubed into 1" sizes
5-6 mushrooms, sliced
2 tbsp fish sauce
1 tbsp soy sauce
1 tsp brown sugar
1/2 - 1 cup water
Directions
Marinade cubed meat with 1/2 tsp black pepper, 1/2 tsp garlic and 1 tbsp fish sauce.
Fry in oil chopped garlic, onion, ginger and hot pepper until lightly browned.
Add rinsed star anise, cinnamon stick, bay leaves and lemon grass into pan and stir until fragrant.
Add marinated beef into pan and allow to brown on all sides.
Add cubed tomatoes, potatoes, carrots and mushrooms.
Add fish sauce, soy sauce, brown sugar and 1/2 cup water and allow to simmer on low heat until meat and potatoes are tender.
Once tender, taste the soup for flavor and adjust salt and sugar to taste.
Serve hot with crusty bread slices or over noodles.
If serving over noodles, may serve with cilantro and Sichuan Hot Chili Oil to increase spice.
Reviews
{{note.Summary}}
edit
{{note.author.name}} on {{note.date | date:'medium'}}
{{writtenLevel}}
{{note.Comment}}